Discover more from The Testing Ground
This newsletter is a space for me to share stories, reflections and sometimes personal updates.
When WhatsApp Saves Lives
The Unsung Hero(ines) of Brazil's Reproductive Rights Movement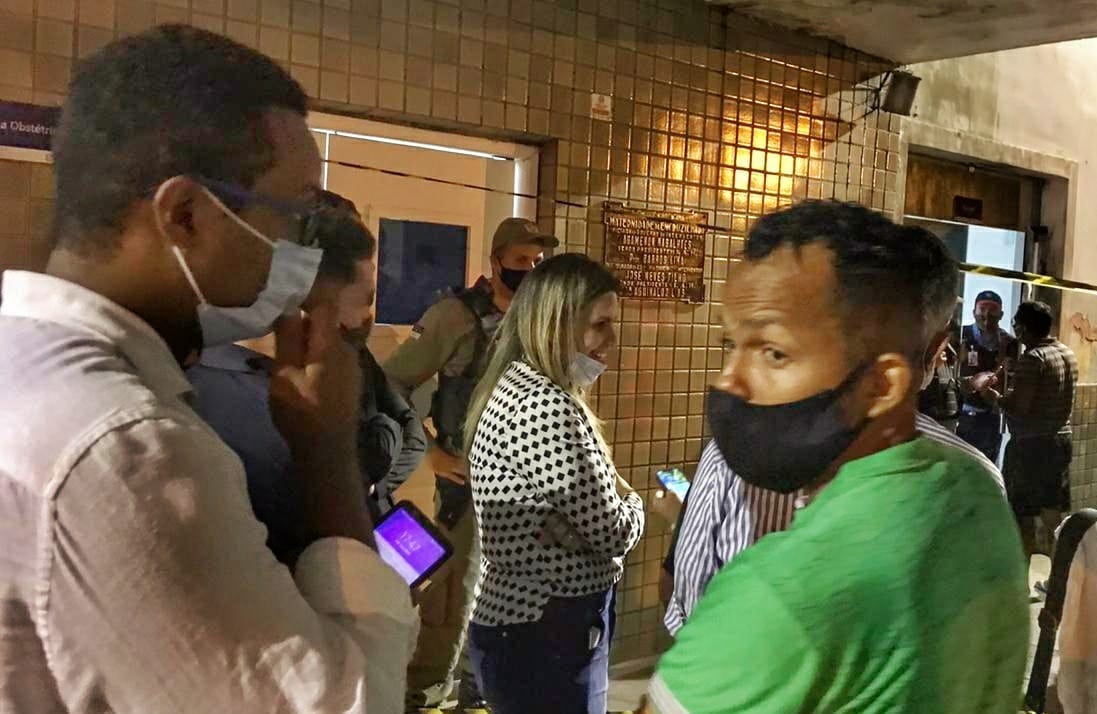 Pernambuco State Deputy Clarissa Tércio (PSC) (mask off) stands near the entrance of the Amaury de Medeiros Integrated Health Center in Recife during a protest in late August. Photo: Jônatas Campos/MZ Conteúdo
A crowd of dozens is gathered in a circle, praying in the dark, equatorial evening. In spite of the prayers, the situation is tense, and roughly 200 people have crowded onto the dusty pavement at the entrance to the Integrated Health Center Amaury Medeiros (CISAM).  Those praying have come to protest an abortion. Progressives are there to support the right of the 10-year-old child who has traveled nearly 1000 miles to Recife, a city near the easternmost point of South America, to obtain the procedure. As a rape victim, the girl was legally entitled to request a termination. Still, in order to enter the hospital unmolested, the child had to hide in the trunk of a taxi. Her case has shed light on the fact that five girls between the ages of 10 and 14 undergo abortions in public hospitals daily in Brazil. It has also exposed the public officials trying to impede access to abortion care. In the background, however, networks and people strive to support women and girls' physical autonomy, ensuring in this case the child was able to reach a hospital that would comply with her wishes.
Sexual assault is one of three reasons the law permits abortion in Brazil. The others are if the mother's life is at risk and if the fetus is anencephalic. There is no age restriction on any of these exceptions. Nonetheless, some physicians and hospitals refuse to perform abortions, as happened with the little girl mentioned above.
About 30 minutes by bus on the other side of Recife from CISAM, Curumim's offices are tucked into a compact townhouse on a secluded, dead-end street. Curumim is an NGO that trains midwives across Brazil and advocates for a holistic approach to women's health, including access to abortion care. In 2017, Curumim launched Vera, a hotline women could call for easy-to-understand information about sexual and reproductive health. The service was created in the wake of the surge in cases of babies born with microcephaly as a result of in-utero Zika infections.
To ensure there is a record of all the conversations, Vera now operates using WhatsApp, a messaging app owned by Facebook. Isadora Tavares, a nurse specialized in gynecological and obstetric care, answers the questions that come through. Now, three years after the service launched, roughly half of the questions come from people in Pernambuco, the state where Curumim is located, while the other half come from the rest of Brazil.
"Sometimes we get calls from people asking for information that may not be legally disseminated," Tavares noted. "We work within the law in order to be able to keep serving people forever. So, [responding in writing] is a way for us to protect ourselves since everything we answer is there in writing, and we also save the chats."
Tavares says there are three questions that the hotline receives most frequently:  information about a pregnancy that is the result of violence; questions about pregnancy and contraception in general, and questions about abortion. During the pandemic, she says, Vera has also seen an increase in the number of women asking for psychological and legal support for sexual abuse they experienced as children 20 or 30 years ago.
"Even though the law guarantees abortion access for women when the pregnancy is the result of violence…this information is very restricted, and lots of women don't have access to it. They don't know where [an abortion] can be performed," Tavares explained.
The lack of knowledge, says Sandra Valongueiro, goes far beyond this. Valongueiro is a retired medical researcher from the Federal University of Pernambuco and a member of the state's Maternal Mortality Committee, which reviews cases to identify causes of death and to advocate for improved care. "Sometimes women don't know that they are pregnant. They have no idea how long they've been pregnant. They don't know what interruption options exist, which ones are safe, what are the risks of a late-term abortion." Complicating the situation for women trying to induce an abortion at home, Valongueiro said that access to medications like misoprostol and mifepristone has essentially evaporated over the past year.
Even if abortions under certain circumstances are legal in Brazil, hospitals often refuse to perform them. Tavares recalls one week at the end of 2019 when two women who live hundreds of miles inland from the state capital of Recife both were refused abortion procedures at their local hospitals. One of them had an autistic child, which complicated her ability to find childcare so she could travel a number of hours to a hospital that would perform the termination.
"We have data showing that 56% of the pregnancies in Brazil are unplanned. And that's the average," outlined Dr. Ana Derraik, a gynecologist and obstetrician in Rio de Janeiro. "If you look at specific populations, like adolescents, women who have a lot of children, transplant recipients, homeless women, patients with drug addictions, we see that there are many more undesired pregnancies. It reaches 80-90%," Derraik said in a phone interview.
"We are failing women. They don't want to become pregnant. We are operating in a way that they end up pregnant," she said. Worse, Brazil's maternal mortality rate has changed little over the past decades.
"For me, we aren't going to reduce maternal mortality until we face the causes of these unplanned, unwanted pregnancies as a public health issue and not a policing issue," Derraik said. For her, ensuring that women have access to contraceptives, including long-acting contraceptives such as IUDs is a critical step in this direction.
Yet Derraik also underscores how during the pandemic, many clinics haven't deemed contraception as "essential," making access even more challenging. To help counteract this, Derraik and the NGO she works with, Nosso Instituto, have been holding webinars about contraception. After the workshop, women could sign up through the website for an appointment to obtain contraception.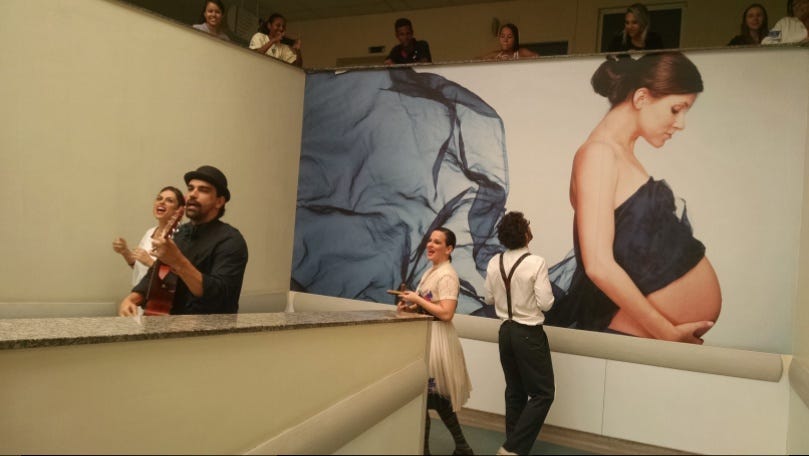 Clowns provide entertainment to patients, staff and family members at a women's hospital in the greater Rio de Janeiro metro area.
"In my Ipanema office, I set up visit days for women who wanted access to IUDs or implants," Derraik says. Before the pandemic, she would also collaborate with community health clinics around these services. For example, Derraik would visit a home in the Maré favela where she would speak with a number of women about long-term contraception methods.
"We talk to women about the body:  the body as a source of power; the body as a source of pleasure, the body as a tool for work, for fulfilling one's dreams," Derraik said. "[We talk about] sexuality having to be practiced with freedom, safety and responsibility."
Word about Derraik's services spreads through word of mouth, although the organization is also advertising on social media. "The women are so well cared for, they leave so satisfied, they feel this is so powerful, that one woman we serve generally brings us two or three more," Derraik explained.
Particularly for low-income women and women of color, respectful gynecological and obstetric care is not a given. Tavares recalled a situation in a top-tier public hospital during her nursing residency in Recife that illustrates the lack of respect many women experience during obstetric visits.
Tavares had been asked to leave the examination room where a thirty-something pregnant Afro-Brazilian woman sat on the table. The door remained ajar, so she could see what happened in the room. There, a male teaching physician wearing green scrubs stood at the end of the table. He looked to be about 50 years old. First, he demonstrated how to examine a woman's vaginal area to determine her dilation before watching over a line of four or five residents who also performed the manual exam.
"There was no consent, no one asked if she wanted that," Tavares said. "[He] simply told her to lie down, open her legs and explained to [the students] what they were doing there."
The attitude reflects wider societal norms about women as objects, a reality that women of color experience acutely. The 2020 Atlas of Violence reports that 61 percent of the victims of femicide – a murder committed because of the victim's female gender – are Black. The same report noted that Black and white women report rape at roughly the same rate. Nearly 54% of rape victims are younger than 13. Nonetheless, both Tavares and Derraik highlighted how frequently women experience rape in Brazil without recognizing it as such. 
"We end up discovering that she lives in an abusive relationship in which her husband refuses to use a condom and forces her to have relations when she doesn't want to," Tavares said. Women often don't recognize their lack of consent as a critical factor, yet Vera regularly receives date rape reports. "She went to a party and some guy got her drunk and took her someplace and even if she said she didn't want to, they had intercourse, which would make that a rape," Tavares said.
"Rape is…a form of domination," says the Atlas of Violence. As such, Derraik said men need to recognize how they need to change to challenge the status quo. Recalling a conversation with a male friend about what he could do, Derraik told him:  "More important than supporting and saying things when you're here in front of me being respectful, is that you do this when there are no women present…So, you don't laugh at a stupid joke in bad taste when you're with a group of men. It's not enough to be on the right side in theory; you have to be in practice."