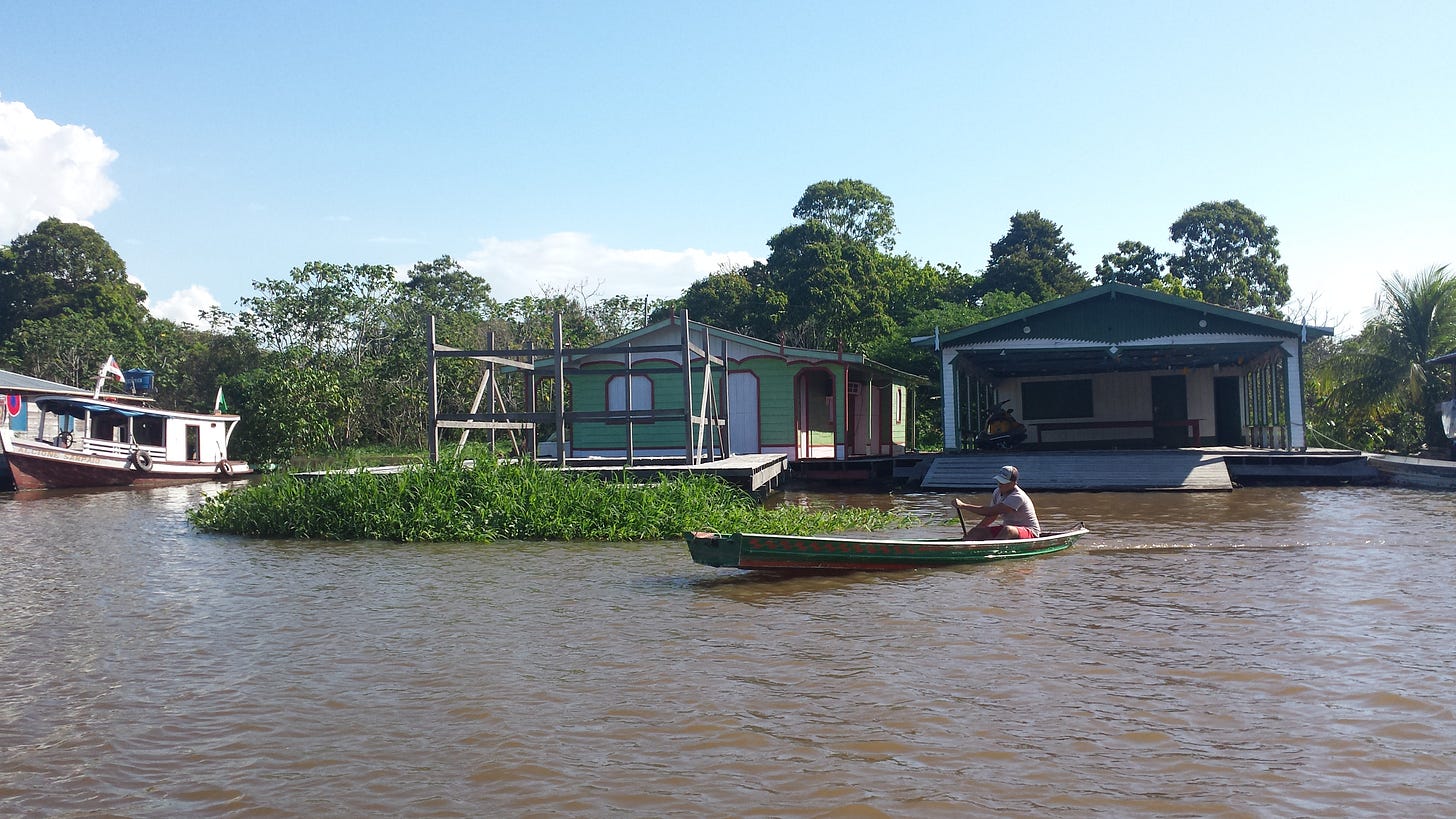 (A young man paddles a boat near a settlement on the Rio Negro close to Manaus.)
In August, 2008, Mozeni Araújo Truká was murdered in Pernambuco, a state in northeastern Brazil. Araújo was a leader of the Truká tribe, which had been fighting for more than a decade to expel the farmers and ranchers who had taken over the Island of Assumption within the São Francisco River. The archipelago is a central part of the tribe´s traditional territory. At the time of his murder, Araújo was running for a seat on the Cabrobó city council. He not only defended the Truká community´s right to its lands, but also fought against large development projects, such as the transposition of the São Francisco River. That project aimed to provide water for industrial-scale farms, but ignored the negative impacts of altering the river´s course, such as destroying the livelihoods of traditional fisher folk and others.
Twelve years after Araújo´s death, Pernambuco has more than 10 indigenous elected officials. Edilene Bezerra Pajeú, also known as Pretinha Truká, a teacher in the indigenous school system, is now completing her term in the Cabrobó City Council. Pajeú is a member of the Brazilian Socialist Party, and she is wrapping up the 12th year the Truká tribe has held a council seat. Before Pajeú won office in 2016, the tribe's chief served 8 years as a council member.
2018 marked a watershed moment in Brazilian politics as scores of Afro-Brazilian women ran for office in the wake of Rio de Janeiro City Council Member Marielle Franco's assassination. Franco's Socialism and Liberty party mandates that 30% of its candidates must come from marginalized communities. So, for example, Sônia Guajajara ran as the Socialism and Liberty party's 2018 vice presidential candidate while numerous LGBTQ candidates and Afro-Brazilian women ran for everything from governorships to state legislature seats. In the same year, Joênia Wapichana won a seat in Congress with the Sustainability Network, an environmentally-focused party.
"[Indigenous people] are increasingly feeling the need to occupy legislative positions," said Manoel Moraes. Moraes is an attorney who coordinates the Human Rights Department at the Catholic University of Pernambuco in Recife.
While Jair Bolsonaro's disdain for indigenous rights has polarized opinions, the threats to these communities are longstanding. Brazil has consistently ranked as one of the most dangerous countries in the world for environmental activists. Global Witness's 2017 report found that indigenous Brazilians represented roughly one quarter of those murdered for defending their communities. Now, wildcat gold miners and loggers not only threaten indigenous people with physical violence, but also with infection from the novel coronavirus. A recent study found that 11 of the 15 cities with the highest COVID19 infection rates were in northern Brazil, that is, the Amazon region.
Marklize Siqueira identifies as Afro-Indigenous and is running as part of a collective candidacy for a city council seat in Manaus, the capital of the state of Amazonas. Siqueira is a social worker with the state´s health secretariat. She says that she is running because she can be part of a group slate.
"It's really scary for various reasons. I'm a woman. I'm a Black woman. We know about racism, machismo, the lack of respect for us," Siqueira said. "Alone, I've already seen candidacies; I've already worked on campaigns. I know how hard it is, especially for women. So, if it weren't collective, I would probably be working for someone else, but I wouldn't run myself because it's intense. It's intense."
Indigenous slavery in Brazil was common until the early 19th century, and the country enslaved more people from Africa than anyplace on earth, approximately 5 million souls. In some places, people of African descent mixed with indigenous Brazilians, bringing these cultures together.
Another indigenous candidate in the state of Amazonas is Fidelis Baniwá. Baniwá is running for mayor in Santo Isabel do Rio Negro. His candidacy faces a number of challenges.
Amazonas has the largest number of indigenous people of any Brazilian state, but the coronavirus pandemic has overwhelmed the hospital system in the state capitol, Manaus. Authorities have set up a separate facility there to serve indigenous people, but it is unlikely to help those who live deep in the rainforest. Much of the state is accessible only by boat, and journeys between cities can take multiple days.
"We're really worried about his situation," said Siquiera. "Since Bolsonaro took office in Brazil, it's like he issued a license to kill rural leaders." Baniwá is running for office in a community where another party has had a firm grip on power for years, according to Siqueira. She pointed to two robberies in recent months that seem aimed at intimidating the candidate and disrupting his campaign. "The motors for the little boats they use to visit indigenous communities were stolen," she said, noting that police said the robberies were targeted.
Infrastructure presents another challenge for indigenous candidates in the Amazon. Internet access in Santo Isabel do Rio Negro, for example, only functions between 2 and 5am, Siquiera says, which means meetings must take place before dawn.
In the neighboring state of Amapá, Carolina Lazameth, a member of the Socialism and Liberty Party´s national board, noted additional challenges:  not all cell phone service providers work in rural areas and where roads exist, they are often unpaved and so turn to mud when it rains.
While dirt roads contribute to isolation, paved roads in the Amazon are like the needles of an opioid addict:  they allow destruction to penetrate further and more quickly. Roads allow loggers to reach deeper into the forest, clearing the way for ranchers, farmers and towns. Research has also identified cattle ranching as the primary driver of Brazilian deforestation, and companies like JBS as the main culprits.
On the opposite side of Brazil, Ju Vitorino, a Black candidate for mayor in the city of Jaboatão dos Guararapes, connects the dots between the struggles facing indigenous and Afro-Brazilian communities.
"It's a different logic. Black and indigenous women in Brazil are always creating strategies for our territories. We have to create strategies. We don't have water. We don't have sewer systems," she said.
Vitorino's mother toiled as a domestic worker for 50 years, starting when she was 9. This informs Vitorino's perspective that the call for a return to pre-pandemic normalcy represents "capital over everything." Yet facing down the status quo also means confronting legitimate fears for her own safety.
"I don't want to occupy this space to be silenced, cruelly assassinated the way Marielle was," Vitorino said, referring to the Rio de Janeiro councilwoman.
In the Amazon, profit pushes the ranchers, loggers and wildcat miners who are encroaching on indigenous territories. Yet these pressures are prompting indigenous Brazilians to run for office. Turning to politics to defend a communal territory reflects what Pajeú sees as an indigenous approach to governance.
"All the indigenous issues in Brazil have a collective focus," Pajeú said. "In my opinion, politics in Brazil has an individualist focus…of serving people on an individual basis."
As a result, she says, indigenous candidates face the challenge of leaving their egos aside to serve their people through elected office. The approach, Pajeú says, has helped alleviate some of the conflict the tribe has with its non-indigenous community. "They don't see us as an obstacle to development anymore, but as a contribution."
This piece was edited by Lisa Davis, MsLisaDavis64@gmail.com